How do you tell the bad cholesterol from the good cholesterol?
There are both "good" and "bad" types of cholesterol. A blood test can determine your "lipid profile". For the lipid profile several measurements are done, including low density lipoprotein cholesterol (LDL), high density lipoprotein cholesterol (HDL), total cholesterol, triglyceride level, and total cholesterol to HDL ratio.
Roughly speaking, LDL represents "bad" cholesterol and HDL "good" cholesterol. When the blood LDL level is too high, this bad cholesterol deposits itself in the arteries. HDL cholesterol, on the other hand, prevents such deposits. A diet too rich in animal fats will increase the LDL levels as well as the total cholesterol.
What are the risks for cardiovascular disease?
An excess of LDL cholesterol increases the risk of developing heart and blood vessel (cardiovascular) disease. Moreover, this risk increases with age, a positive family history for cardiovascular disease, obesity, a sedentary life style, high blood pressure, diabetes and smoking. The more risk factors you have, the greater the chance you will develop cardiovascular disease.
There are guidelines, depending on your other risk factors, as to how high your LDL should be. Consult with your physician to find out what your limit is.
How to calculate your cardiovascular risk factor score.
By completing the list below, you will have an idea of your personal level of cardiovascular risk. For questions 1 to 7, if your answer is "yes", check 1 point in the corresponding box. For question 8, if your answer is "yes", you should however subtract 1 point. You can then do the maths.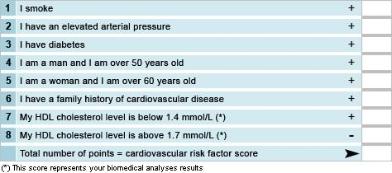 The higher the score the higher your risk level.
You can now determine the LDL Cholesterol level you should have according to your cardiovascular risk factor score.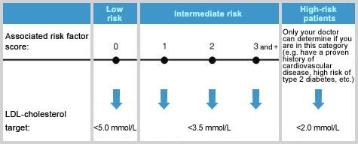 ABBEY FIGURES
| | |
| --- | --- |
| GENERAL PRACTITIONERS | 4 |
| REGISTRAR | 1 |
| NURSES | 3 |
| STAFF MEMBERS | 13 |
| CONSULTATION ROOMS | 6 |
| SURGICAL ROOMS | 1 |
  OPENING HOURS
| | |
| --- | --- |
| Monday – Friday | 9:00 – 13:00 |
| | 14:00 – 17:30 |
065-6829975
  OFFICE LOCATION
Contact Us
Appointments must be made for all consultations. This can be done by phoning 065-6829975.